My Stuff..

_

OK, I guess I should have a list of what SMS stuff I own I'm on a quest to first acquire all US SMS games, then to aquifer ALL SMS games. Wish me luck! If you are willing to part with any game that I don't have listed here, please shoot me an email to work out a trade or a sale.. Anyhow, Here's my list as of May 1998..

HARDWARE
Original US Power Base (One mint box for 3d system, with all inserts) x2
Sega Master System II
Control Pads (Original) x2
Control Pads (Without Screw-in) x3
Control Stick x3 (one in box)
Segascope 3D Glasses & Adapter x2 (one in box)
Power Base Converter x2 (1 modded to fit the Genesis II)
Master Gear SMS -> Game Gear converter
Sega Sports Pad
GAMES
Action Fighter
Afterburner
A. Kidd the Lost Stars
A. Kidd in HiTech World
A. Kidd Miracle World
Alien Syndrome
Altered Beast
Astro Warrior
Black Belt
Blade Eagle 3D
Choplifter
Cloud Master
Columns
Cyborg Hunter
Dead Angle
Double Dragon
Dragon: The Bruce Lee Story
Enduro Racer
F16 Falcon
Fantastic Dizzy
Fantasy Zone
Fantasy Zone: The Maze
Gangster Town
Ghostbusters
Global Defense
Golden Axe
Golden Axe Warrior
Great Baseball
Great Basketball
Great Football
Great Golf
Great Volleyball
Hang On/Astro Warrior
Hang On/Safari Hunt
Hang On (card!)
Incredible Hulk
Indiana Jones
Joe Montana Football
Kenseiden
Lion King
King's Quest
Maze Hunter 3D
Master Games 1
Michael Jackson's Moonwalker
Miracle Warriors
Missile Defense 3D

Monopoly
Mortal Kombat II
The Ninja
Out Run
Operation Wolf
Paperboy
Penguin Land
Phantasy Star
Power Strike
Predator 2
Pro Wrestling
Psycho Fox
R-Type
Rambo Blood Part II
Rambo III
Rampage
Rastan
RC Grand Prix
Reggie Jackson Baseball
Rescue Mission
RoboCop 3
Rocky
Sega Chess
Shanghai
Shinobi
Space Harrier
Space Harrier 3D
Spiderman: Return of the Sinister Six
Spy Vs Spy
Superman
Super Tennis
Taz Mania
Teddy Boy
Terminator
Thunderblade
Time Soldiers
Tom & Jerry: The Movie
Transbot
Vigilante
Where in the world is Carmen Sandiego?
Wonderboy
Wonderboy 3
Wonderboy in Monster Land
World Grand Prix
Ys: The Vanished Omens
Zaxxon 3D
Zillion
Here's some of my SMS stuff strewn out on a table..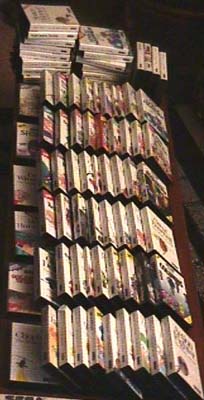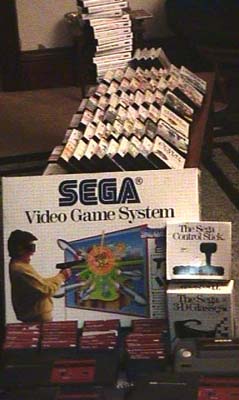 Yea, I dont need that many Power Bases. What if one breaks, though?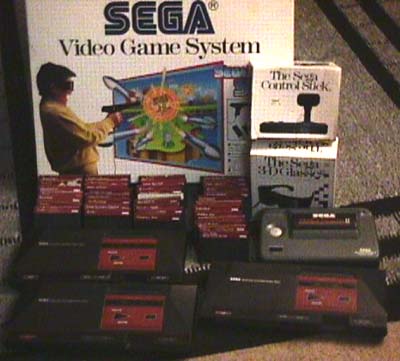 Oh yea, I own some non Master System Stuff, too. Here's a quick run down:
Turbo Duo, ~15 games (Ys, etc)
Genesis, Sega CD, 32x, Nomad. Only about 10 games
SNES, about 15 games
NES
Dreamcast